A complete guide on using Shopify product recommendations on fashion and clothing stores.
Currently worth over $750 billion, the global fashion and clothing eCommerce industry is expected to reach over $1 trillion by 2025. You don't need a crystal ball to predict that the future of apparel online retail is brighter than ever. However, you cannot ignore the fact that the competition is also higher than it has ever been. With more and more offline stores going online due to the pandemic, new Shopify stores being set up every hour, and even homegrown fashion businesses fighting for market share, there is enough and more for online shoppers to choose from.
The challenge now is all about capturing buyers' attention in an increasingly crowded online space. How do you make your online fashion store stand apart and convert better? How do you ensure your conversions and sales are not affected by the ever growing competition?
Well, we'll get to it in just a bit. First, let's deep dive into what the status quo is with regard to eCommerce marketing in the fashion domain.
The current state of marketing and conversions in the fashion category
Did you know that the total social media ad spend was close to $43 billion in 2020? And that's just social media! There are plenty of other acquisition channels marketers need to focus their efforts and budgets on. These numbers simply indicate that ad expenditure is at an all-time high, which means customer acquisition costs are increasing significantly year on year. And with average conversion rates fluctuating between 1.5-2% for the apparel eCommerce space, the overall ROI brands get doesn't seem to be very promising.
Why are conversion rates so low?
There are many reasons why conversion rates are constantly depleting for online fashion stores. However, the most pressing one is the abundance of choice with every kind of online shopper which forces them to spend more and more time evaluating each of them to avoid making a rushed decision.
Even when buyers do make up their minds, they are bombarded with a million ads from your competitors which might draw them away at the very last step. Finally, when they do land on your store to make a purchase, there are enough distractions in online shopping journeys these days that lead to increasing drop offs.
So, how do you solve for low conversion rates on your store?
The simplest answer to that question is retaining buyers' attention once you have captured it – not letting them go once they are at your Shopify store. Why spend thousands on retargeting and remarketing ads when you can convert shoppers right when they first visit your store? Why not focus on luring them into making a purchase and if they are already convinced, why not nudge them to try out other products as well? Similarly, for returning visitors, why not showcase products to them that they have a decent chance of being interested in? Why wait for them to search for products and not display a curation of relevant products to them? Product recommendations allow you to check all those boxes.
Product recommendations are absolutely worth their weight in gold when it comes to making the most out of an interested visitor. They allow you to nurture your shoppers' interest and convince them to spend more money while they are on your online store.
What are product recommendations?
Product recommendations are nothing but an eCommerce personalization tactic wherein machine learning is leveraged to showcase product suggestions to a customer based on their purchase history and behavior or any other relevant criteria such as products' popularity or demand. These products are dynamically presented during various stages in the purchase journey such as product page, cart page, or even thank you page.
The recommendation algorithm is designed so as to predict and curate items out of the catalog that a particular shopper is likely to be interested in.
Here's an example from a global brand that literally personified the idea of product recommendations, Amazon:
Why do product recommendations work so well?
Product recommendations work so remarkably well because they leverage buyer psychology into nudging customers to try out other products from a store they already trust. Since recommendations are based exactly on customers' interests and preferences, there is no reason for them to get annoyed or frustrated while running into them. In fact, online shoppers appreciate brands valuing them as customers and presenting relevant suggestions to them.
Therefore, product communications are a non-intrusive and non-forceful way of encouraging buyers to explore products that they might actually need or want. Also, think about it this way – while shopping in a store for blue jeans, a customer might discover a white shirt that perfectly matches those pants and hence decide to buy it as well. But, how do you create a similar shopping experience on your Shopify store? Product recommendations it is! They allow you to recreate a personalized in-store shopping experience that your customers are so familiar with.
How can product recommendations be game changing for your fashion Shopify store?
Product recommendations can be transformational for your Shopify store simply because they don't interrupt or break the user experience, but simply enhance it. Product recommendations are the best use of data to deliver better experiences on an online store.
Whether it is upselling or cross-selling, recommendations can be used to take your purchase journey to the next level simply by keeping a track of what a particular customer may or may not like. It's a technique to smartly automate customer research and use it to uplift your engagement rates, conversion rates, and finally sales.
How to leverage product recommendations to get the most out of them?
There are plenty of algorithms you can use to showcase relevant products to your returning customers. Some of them include:
Frequently bought together
This category of product recommendations happens to be the most common one and involves showcasing products to customers that they can consider purchasing along with their shortlisted ones. These are usually bundled items or ones that complement the product on the page or the one added to the cart.
For example, if a shopper has selected a specific mobile phone, the frequently bought together section suggests buying a protective glass and case for it as well.
Here's an example of the same:
You might also like/Inspired by browsing pattern
As per this algorithm, a visitor's browsing or shopping history is used to predict what items they might need or want, based on which a selected few of those products are displayed to them when they are on your store. These could be on the category page, product page, or thank you page since they are buyers' interests and likes.
For instance, if a shopper searched for hiking shoes in their previous visit to your Shopify store, they will be displayed a curated selection of running and sports shoes because it falls under the same category they were exploring before.
Thank you page recommendations
These recommendations appear on thank you pages once a shopper has completed making a purchase. Such recommendations are relevant because a shopper has just trusted you and made a purchase on your store, which means that they already find your store credible and your collection enticing enough. You can leverage this positive sentiment into getting them to explore more items from your catalog while they are still on your store.
The best part about such recommendations is that you have nothing to lose. The shopper has already made a purchase and they were probably going to drop off. Instead, you have an excellent opportunity to hold their attention for a little longer and make them keep exploring your products.
Here's a perfect example of the same:
Related products
Related products usually involves showcasing items that are somewhat related to the ones the shopper is currently exploring.
For instance, if they are looking at discounted dresses, this widget could showcase dresses that are also on sale and fall in the same price range as the ones viewed before. Or if someone is looking for a Christmas sweater, this widget can highlight some other Christmas-themed clothing items that they might also need.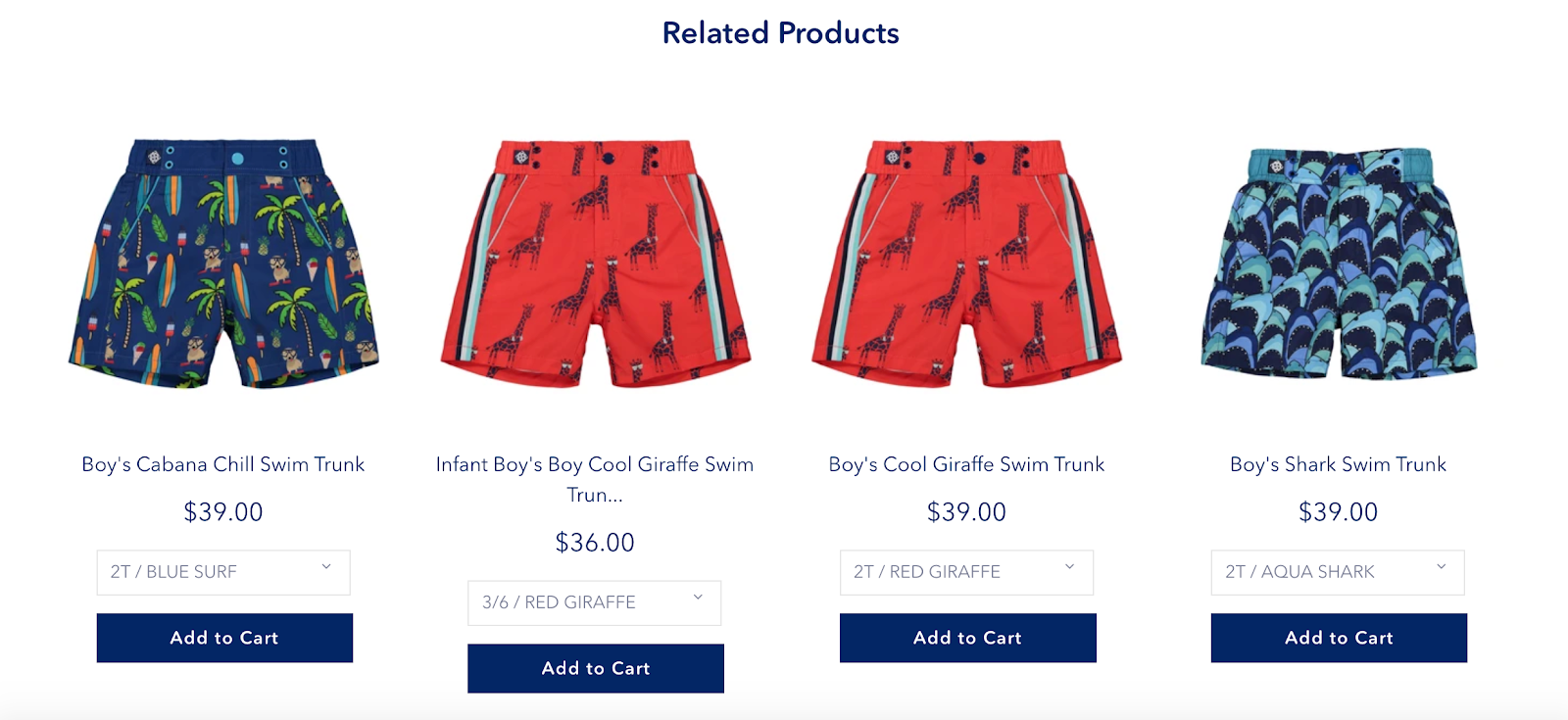 Cart page recommendations
These recommendations appear when the shopper has already added an item to their cart and is somewhere in the middle of the checkout process. The idea is to leverage the high purchase intent of the buyer into nudging them into adding more products to their cart and increasing their order value. These are relevant to the item the shopper has already bagged and also align with their browsing history.
Here's an example of the same:
Smart custom recommendations
These recommendations are shown to the shopper based on any custom trigger that you decide. It could be because they visited a certain category page, searched for a particular keyword, or because they spent heavily on a particular category of apparel. Smart custom recommendations allow you to decide the trigger, and timing and placement of the pop up so that customers are shown relevant products based on their behavior on your store.
Trending products
Trends are everything in the fashion and apparel space. Every online shopper wants to stay on top of every new trend, even if it means making some impulsive purchase while casually browsing an online store. The trending products widget allows you to showcase trending and in demand products to your shoppers while they are on your Shopify store. Since these items are hot selling and have the power to grab attention, they work wonders in increasing your average order value and getting impulsive shoppers to spend more.
Here's an example:
New arrivals
These include items that are recently added in stock. Since these products are fairly new, such recommendations help create a sense of exclusivity to draw the shopper into trying them out. For example, if a customer is looking for a pair of black trousers from their favorite brand that they completely trust and run into a recommendation of a similar pair that has just been added in stock, but is slightly better, they are obviously likely to consider buying the newer pair to avoid the fear of missing out.
Recently viewed products
This widget helps showcase products that have been recently viewed by the shopper – could be in the same session or during their previous visit. These are extremely beneficial in reminding buyers about items they have considered purchasing in the past and might still be of their need. Imagine if a visitor came to your Shopify store looking for a pair of sunglasses in the middle of their workday, but got distracted by an urgent meeting and had to drop off.
Later, when they are on your store again and browsing through your catalog, this widget ensures the same pair of sunglasses pop up so they are reminded of it and can consider buying them then.
Benefits of using product recommendations on your store
Improves your average order value
As product recommendations persuade online shoppers to try out other products and possibly add them to their cart, you have the chance of significantly improving your average order value. For instance, widgets such as frequently bought together that are usually present on cart pages encourage customers to consider buying enhancements or add ons with their shortlisted items, thus boosting their total billing amount.
Helps you upsell effectively
Product recommendations are a fantastic way to lure shoppers into considering a better or premium version of a product they intended to buy. Upselling works because it leverages the high purchase intent of a buyer into nudging them to make a better choice. When shoppers are displayed relevant suggestions of products that have better features than the one they have shortlisted, they are highly likely to appreciate them and consider upgrading.
Creates cross-sell opportunities
Product recommendations open up great avenues for cross-selling similar or related products on your store that buyers might be interested in based on their purchase history and shopping behavior. Since these shoppers are already convinced of the credibility of your store, they won't mind trying out a few other products in categories that might catch their attention.
Helps you clear our cold inventory
As you offer product recommendations to customers, you have the golden chance of clearing out your warehouse shelves that have been occupied for a while. These are products that are not very much in demand but end up occupying inventory space and thus hurting your pocket. You can showcase these cold products to customers who might be interested in them to increase their demand and get rid of them. Since these shoppers have already shown intent of buying similar products, they are the right set of people to target with these recommendations.
Boosts conversion rates
Out of the endless array of conversion optimization strategies available at the click of a button today, using product recommendations happens to be the most underrated one. These suggestions not only improve your cart value or time spent on your product pages, but also work effectively in ensuring your conversion rates are high. The more products the customer chooses from the recommendations section, the higher is your conversion rate for that particular page.
Increases sales and revenue
With relentless competition in the fashion eCommerce space today and limited strategies to boost sales, it can be challenging to improve your top line numbers. Product recommendations are proven to show tangible results in increasing sales on your Shopify store with absolutely no investment from your end. It's hard for shoppers to ignore intelligently curated relevant product suggestions that they might need or want. Thus, you get to move your key metrics without any heavy lifting.
Reduces bounce rates
Product recommendations welcome shoppers to explore more products on your Shopify store, thus decreasing the bounce rates of your key pages. With buyers discovering products that interest them in the form of recommendations, they are less likely to drop off from your store without taking any action. This way you can ensure that even thank you pages have low bounce rates.
Helps improve product discovery on your store
Some products have better discovery on your Shopify store than others. This could simply be because of the seasonal demand patterns or random trends. Products with poor discovery are difficult to sell as they don't show up on the top in search results, aren't directly searched for by shoppers, and aren't added to carts very frequently. Recommendations help allocate appropriate digital real estate to such products so they are seen and evaluated by customers more often, thus improving their discovery and demand.
Results you can expect from using product recommendations
If you are wondering whether using product recommendations is going to be worth it, take a look at some success stories of brands who have already reaped its benefits:
Kappa
As you probably already know, Kappa is a global leader in sportswear known for being popularly adorned and endorsed by celebrities and international athletes. The team at Kappa noticed a pressing problem on their online store – something that was constantly affecting their sales and revenue.
The problem
Most shoppers on their store would come looking for specific products, explore them, make a purchase, and drop off. They slowly realized that only popular or in demand products would get attention and the rest of their collection went unnoticed by the majority of their shoppers. The one rookie mistake they knew they didn't want to make was blatantly promoting irrelevant products to shoppers without taking into account their interests, needs, and likes.
The solution
Kappa's team started leveraging their on site data to study customer behavior and understand how shoppers were intersecting with their site and what their interests and likes were. They used this data to strategically showcase personalized product recommendations to shoppers to promote their other products. They used the "complete the look" widget to cross sell products that fell under the same category the shopper is interested in but were from an entirely different range.
For instance, if a shopper came looking for a sports jacket, the widget would automatically suggest a matching shirt that would go well and complete the look.
They even used the "recently viewed" widget to subtly remind visitors of products they had evaluated but not purchased before.
The result
Kappa received fantastic results by using product recommendations wisely on their online store. Take a look:
✓ 40% boost in customer engagement
​​✓17% increase in sales
✓11% increase in average order value
Read the detailed case study here.
Andy & Evan
Andy & Evan is a kids clothing brand based out of the United States that was founded in the year 2009. Known for the luxury clothing range for young boys and girls, Andy & Evan has a vision of revolutionizing children's clothing.
The problem
Andy & Evan was facing a huge challenge on their online store. Their shoppers would visit specific campaign landing pages, explore certain collections, and drop off. They wouldn't necessarily take the time to visit all ranges the store had to offer or discover other products.
The solution
The team at Andy & Evan started using intelligent recommendations to showcase related products on their product pages and increase the discoverability of some of their less popular products. Product recommendations also helped them improve the number of products that get noticed during a visitor session, thus increasing the probability of a successful sale.
Their team utilized the "top selling" products widget to showcase bestsellers in the category the customer is interested in to help them make a decision. Most online shoppers have a massive fear of missing out and hence never ignore high selling items so they don't lose out. Andy & Evan was cognizant of that and used product recommendations to increase their sales by showcasing hot selling items to their customers.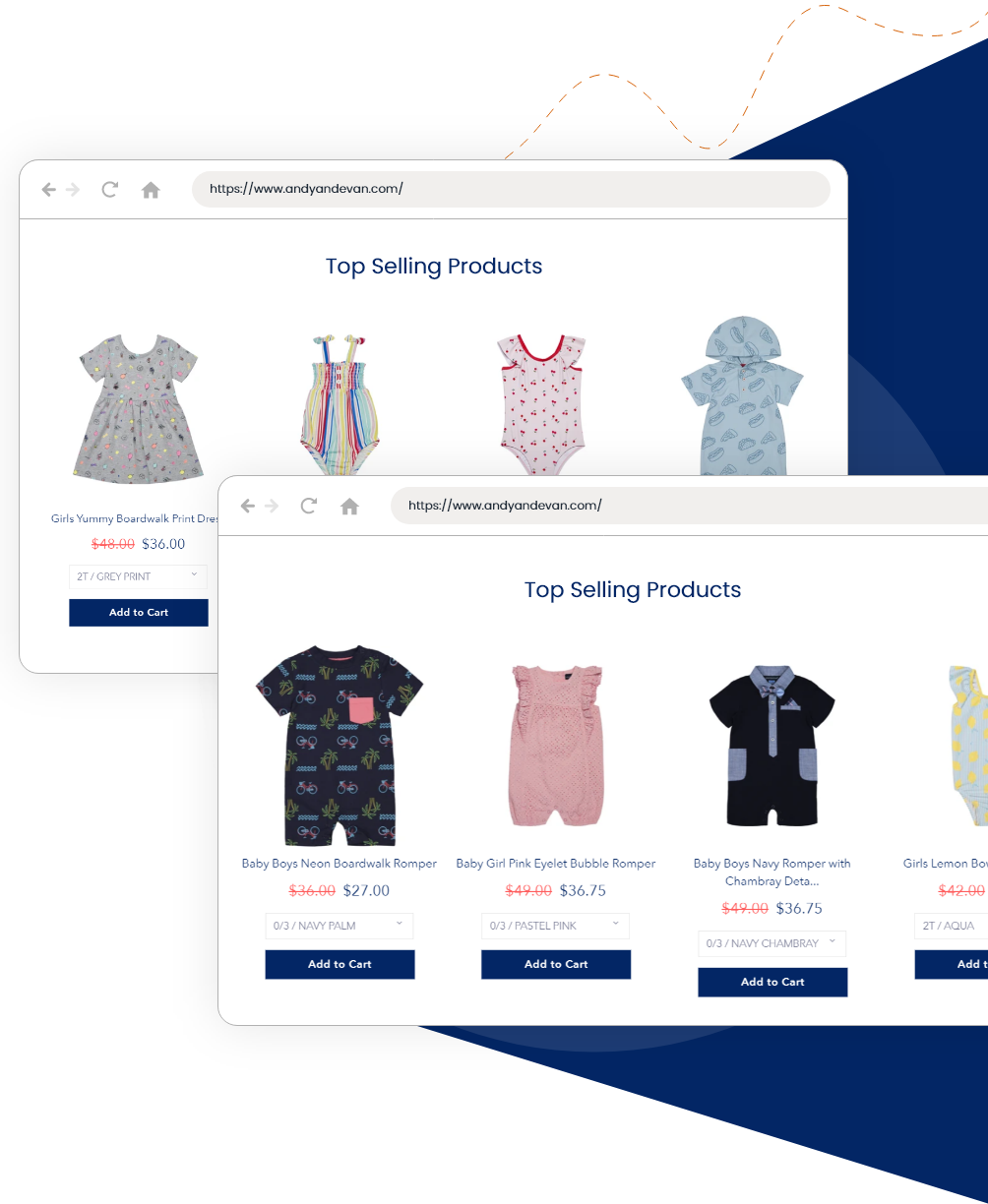 Another experiment they ran was highlighting trending items so that parents who follow trends and want their kids to be dressed as per the latest ones end up noticing them. Not only did this widget help shoppers keep up with trends, but also helped them discover trends on Andy & Evans' store itself, thus eventually increasing average order value.
The result
The team at Andy & Evan was pleasantly surprised with the promising results they received by using product recommendations:
✓ 10% increase in conversions by showcasing top-selling products
✓ 50% increase in engagement using related products
✓ 5% increase in average order value by highlighting trending items
Read the detailed case study here.
About Gym+Coffee
Created in Ireland, Gym+Coffee is an athleisure brand known for their undying passion for helping people get fitter and lead healthier lives, apart from selling trendy sportswear.
The problem
Gym+Coffee couldn't get their online shoppers to explore the entirety of their catalog. Instead, shoppers wouldn't even navigate to some sections of their online store, thus severely impacting their sales.
The solution
First, the team at Gym+Coffee leveraged product recommendations to handpick products that they wanted to showcase to specific users to improve their discoverability. For instance, if a user would come to their store looking for a pair of leggings, they would recommend a hoodie and pair of gloves to go with it and complete the look. Next, they played on customers' FOMO to display trending and top selling items to get them to spend more. They also leveraged recently viewed widgets to remind shoppers of the products they liked and evaluated earlier.
The result
The team at Gym+Coffee received unbelievable results by using product recommendations on their store:
✓ 18% increase in conversions
✓ 27% increase in engagement
✓ 5% increase in average order value
Read the detailed case study here.
Let's get you started with offering product recommendations for your fashion and clothing Shopify store
We've gone over everything you need to know about product recommendations. However, to utilize them to their full potential, you need access to a robust tool that takes over the heavy lifting for you.
Wiser is one such AI-based personalized recommendations tool that regularly collects your customer data and uses it to showcase custom and relevant recommendations to them at different stages of their purchase journey. It analyzes buyers' interests, browsing and shopping patterns, on-site behavior, and even order data to present recommendations that are not only hard to resist, but also extremely smart and relevant.
Wiser is proven to have brought about 25-30% improvement in conversion rates simply by helping Shopify stores stage personalized shopping experiences that add value to customers' journeys.
The best part? Using Wiser widgets for product recommendations is very simple. You can drag and drop recommendation widgets on your pages and customize them as per your store's needs. You can choose the timing and placement of the widgets as per the insights collected from the data and simply set them up on the required pages.