Powering global brands on Shopify with product recommendations
Global brands use the WISER Shopify app to deliver personalized shopping experiences at scale to customers.
Leverage the power of AI-based personalized recommendations
Analyse browsing patterns, preferences, order data, interests and much more with the WISER Shopify app. Provide a personalized shopping experience across web, mobile and email to drive upto 35% higher conversions.
30%
Increase in Customer Engagement
25%
Increase in Monthly Sales
20+
Recommendation Features
11%
Increase in Average Order Value
I absolutely love this app. Our sales have increased since using it. We also needed some customizations done and the team completed it quickly. They are very knowledgeable and are a pleasure to work with.
This app has been amazing for us thus far. The install/setting up process has been smooth, their support team has been quick to answer our questions, they have been tremendous in helping us find solutions to problems. Overall, this has been worth every penny.
Shopify brands love the WISER upsell app
Trusted by brands across fashion and apparel, clothing, health and wellness, and many more.
Turn personalized shopping experiences into growth for your Shopify store
Personalized
recommendations
Wiser uses your customer's activity history to set up recommendations while they browse your Shopify store, creating opportunities to convert them.
Additional revenue
channel
Shopify stores have seen a 20 to 30% increase in conversions after setting up Wiser recommendations. Create a shopping experience that assures more revenue!
Customizable
widgets
Set up personalized recommendation widgets on your Shopify store with Wiser app to bring your customers back to products they have their eye on.
Industry leading eCommerce personalized recommendations engine for Shopify stores
All of your eCommerce personalization needs in one powerful easy-to-use platform.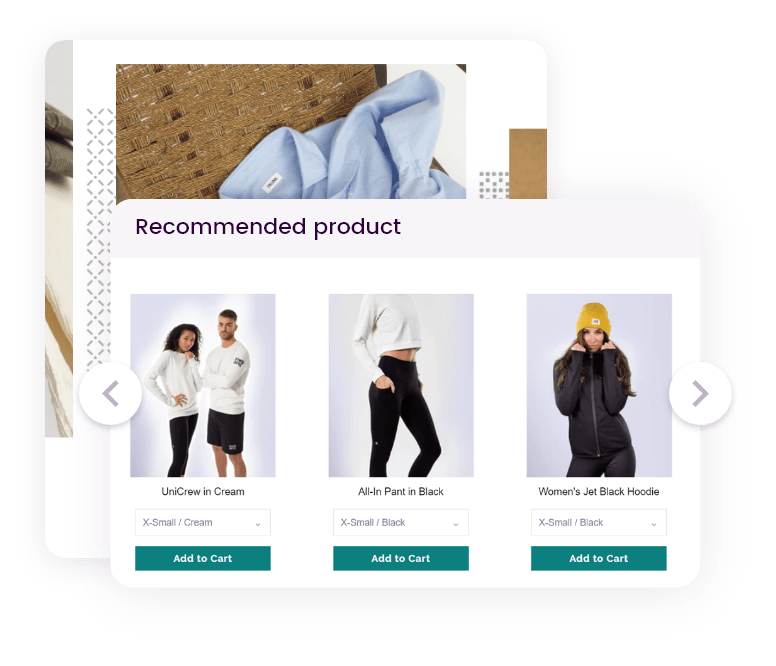 Personalization at scale with product recommendations
Display product recommendations dynamically based on visitor activity on your store. From recently viewed products to previous purchases and more, the WISER Shopify app tracks data in real-time to offer personalized shopping experiences at scale.
Recommend products on the cart page and cart drawer
Upsell and cross-sell on your cart page or cart drawer by displaying personalized recommendations with the WISER app. Display related products, trending items, frequently bought together and other product recommendations to increase your average order value.
Display frequently bought together products
Our AI-based recommendation engine learns from your store visitor behaviour, and recommends items that are usually bought together by shoppers.

Nudge your future store visitors to buy more from you by subtly hinting what others are purchasing!
Upsell using personalized recommendations on popups
WISER also gives you the ability to display product recommendations on popups.

Introduce shoppers to higher-value products using upsell popups and increase average order value in no time!
Introduce shoppers to related products
Nudge store visitors to explore more products on your site by displaying Related Products on your pages.

Our AI-based related products make use of past sales history of the store and a product matching algorithm to check similarities in items based on title, collection, content and user behaviour.
Email recommendations for communication that converts
Send personalized product recommendations on email to turn every communication into more sales. Add them in order status emails, newsletters, back in stock email alerts and more. The WISER Shopify app integrates with the best email marketing apps like MailChimp and Klaviyo.
Engage visitors with recommendations based on browsing pattern
The WISER recommendation engine learns from a visitor's browsing behavior to recommend products that they are more likely to be interested in.

Our 'Inspired by Browsing' recommendation widget is as powerful as that of Amazon!
Track recommendations-generated sales with powerful analytics
Get in-depth analytics into the sales you generate by displaying personalized product recommendations on your Shopify store. Track conversions page-wise and widget-wise to understand how shoppers interact with your website. From click through rates, add to carts to the sales generated, we'll help you keep track of it all.
Integrate the AI-powered WISER app with your favorite Shopify apps
Do more with personalized recommendations by integrating the app with the best Shopify apps for reviews, page builders and more.