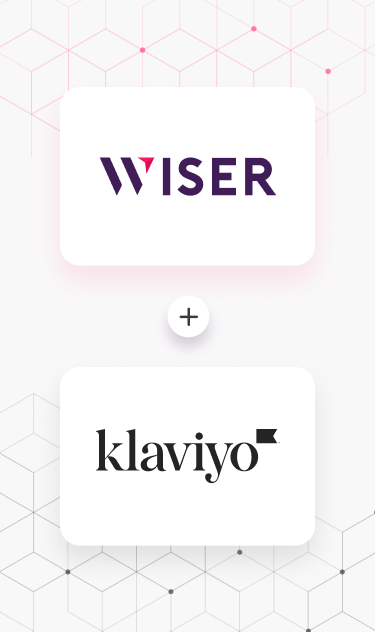 Klaviyo x Wiser Integration
Wiser is one of the leading Personalized Product Recommendations app, powered by AI. It allows ecommerce stores to show targeted product recommendations based on user behavior, past sales history, AI ML, purchase history of a customer and based on many such factors. By using Wiser, you can show recommendations in multiple ways like on page recommendations, recommendations in smart popups, dynamic email recommendations using Klaviyo, recommendations in your shipping notifications and more. It allows to show recommendations on every page of the store, even on checkout page and thankyou page post purchase as well. Wiser helps in increasing your conversion rate by 20-30% and average order value by 10-15%.
"Im into my third month and very happy with the results. Its made the customer journey through my store much more accessible, average order value has increased and conversion rate too. 5 Stars!"
Liam Hardman
Founder - Hardman Design - Germany
Klaviyo <> Wiser Integration
By using Wiser and Klaviyo integration, you can easily send targeted product recommendations in your Klaviyo email campaigns and increase conversion rate and aov by that. You can also track the sales by email recommendations in Wiser's detailed analytics.
Use Cases
Dynamic Email Recommendations
Send dynamic email recommendations in your Klaviyo campaigns to the customers based on their purchase history and behavior on your store using Wiser.
Send Personalized Recommendations
Recommend the recently viewed, best selling, AI based personalized recommendations in your Klaviyo email campaigns, using Wiser.
Track Sales in Analytics
Track the ROI by email recommendations in Wiser's analytics to see the ROI and sales generated by the campaigns.