As an online store, you're sure to be promoting your products and discounts to your shoppers. However, in this age of personalization, that isn't enough. Customers want to see products they are interested in, rather than just generic recommendations. By setting up personalized product recommendations, you can engage your shoppers better and increase conversions. 
Tapping into each visitor's interest and tailoring recommendations for each shopper on your store might seem overwhelming or time-consuming but with the right AI-powered recommendations engine, you can set up personalized product recommendations in no time. What's more, an optimized recommendation strategy will yield high conversions.
Let's dive into the different benefits of displaying personalized recommendations on your Shopify store, including 8 statistics that prove their positive impact.
Statistics that Prove the Impact of Personalized Product Recommendations
1. 11% increase in AOV with personalized product recommendations
By displaying recommendations on different parts of your Shopify store, you can continue pitching new products to shoppers. So, for instance, if the shopper is planning to buy a pair of shoes, you can display a 'Frequently Bought Together offer within the cart page so that the shopper would add the second product in their cart. Such strategies can easily be set up to help you increase the AOV on your store.
Kappa, a leading sportswear brand, set up product recommendations on their store to increase AOV by 11%.

2. 31% revenue attributed to recommendations
With recommendations on your Shopify store, you can continue showing products that the shopper is more likely to buy, increasing your chances of converting them and in turn, growing your revenue.
If you've set up recommendations, it's an assured revenue-generating strategy. On average, product recommendations account for 31% of a store's revenue. 
Amazon displays recommendations across their eCommerce site, from their homepage to product pages to the cart. This has a marked effect on their revenue. In fact, 35% of Amazon's revenue is generated by its recommendation engine.

Set up your store to convert just like Amazon. Get started with the Wiser app today! 
3. Reduced cart abandonment
When shoppers engage with recommendations on your store, they are found to abandon their cart less likely than when they don't engage with recommendations. Personalized product recommendations can improve cart abandonment by up to 4.35%.
Say, for instance, you set up a 'Recently Viewed Products' widget on your cart page. Once a shopper adds a product to their cart, they would see these recommendations. When they intend to exit the page or abandon their cart, these recommendations can help you bring them back or keep them on your Shopify store for longer.
Reduce cart abandonment with personalized product recommendations. Avail Wiser's 14-day free trial to set them up.
4. 50% increase in engagement
When a new visitor lands on your store, they start scrolling through products. After looking through a few product pages, typically, they would get to the end of one of the pages and intent to exit the store. By placing personalized product recommendations at the end of the product page, you can keep them on your store for longer, lowering drop-offs and increasing engagement.
Andy & Evan, an American children's clothing brand, witnessed a 50% increase in engagement by displaying product recommendations.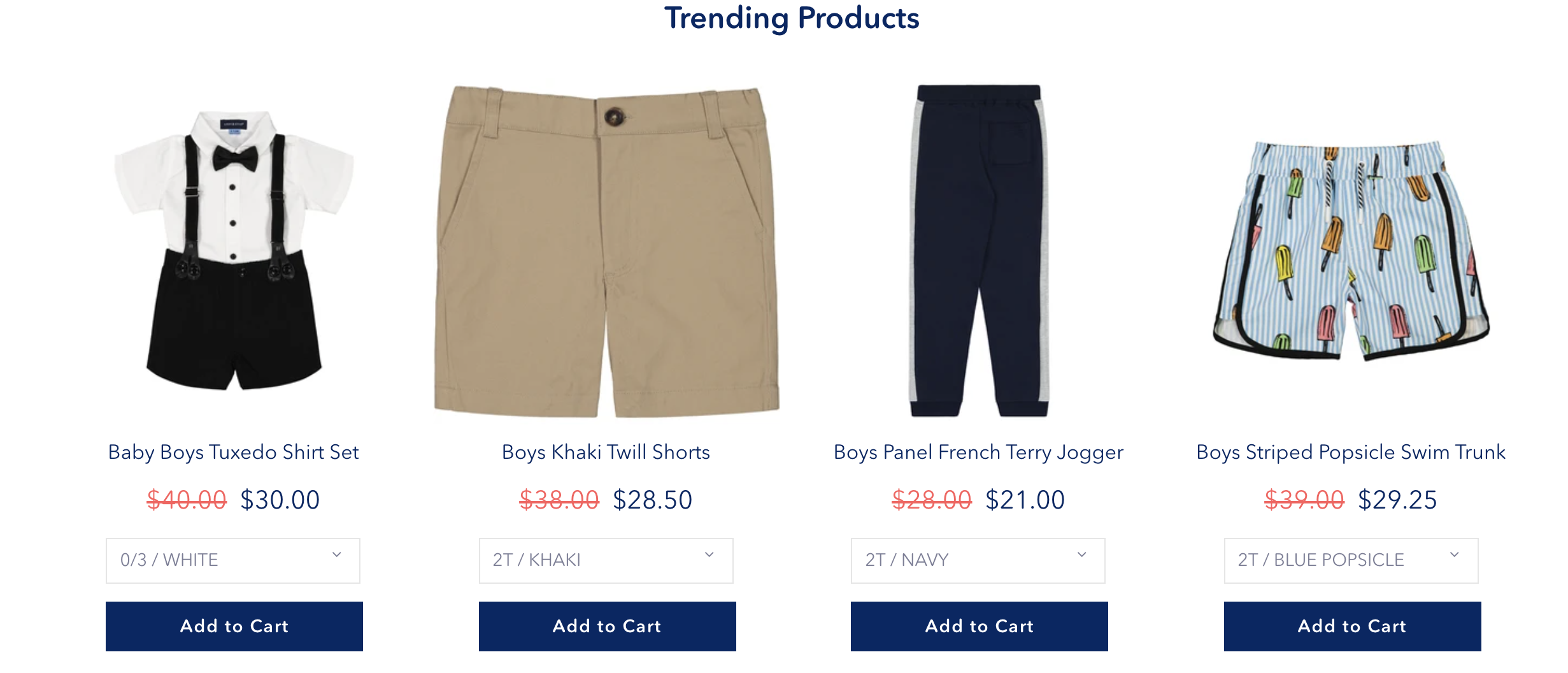 By smartly placing recommendations at the right parts of your store, you can keep your store visitors engaged. Read about the best practices you need to implement for different kinds of product recommendations.
5. 344% increased in time spent on store
More engagement on your Shopify store means more time spent on your store. When shoppers spend more time on your store, they are also more likely to shop from you eventually.
Shoppers that clicked a product recommendation spent an average of 12.9 minutes on-site vs. just 2.9 minutes for those who didn't click recommendations.
Avail Wiser's 14-day free trial to set up personalized recommendations on your store and increase time spent by shoppers on your store. 
6. 26% increase in conversions
The average conversion rate on eCommerce stores is 2.86%. You need to set up different strategies to increase or you end up losing out on potential shoppers. Personalized product recommendations have been a leading solution for many online stores to help them increase conversions without being intrusive.
Visits, where shoppers clicked on recommendations, saw a 26% increase in revenue. Gym+ Coffee, an athleisure clothing brand, saw an 18% increase in conversions by displaying personalized product recommendations to shoppers.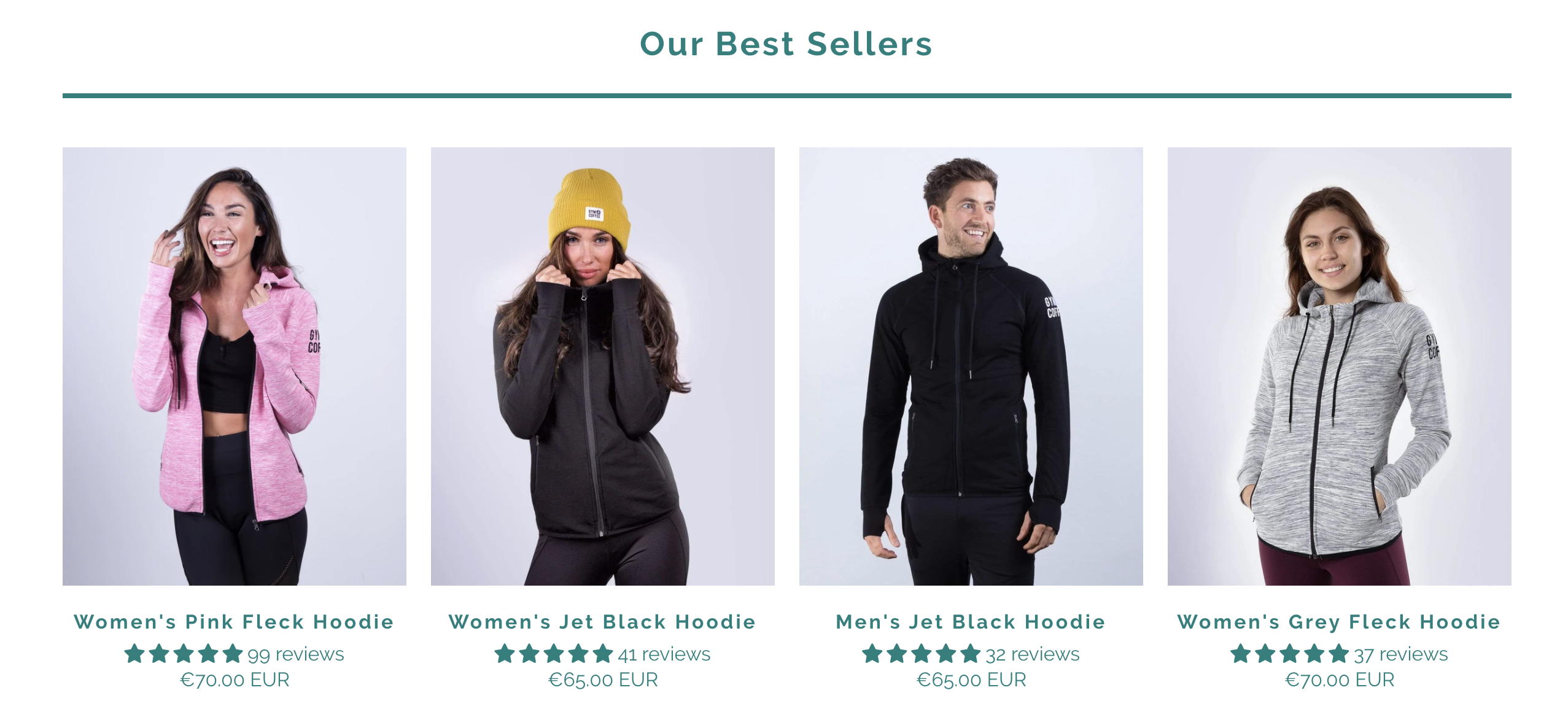 7. 56% customer return rate
When you deliver a positive shopping experience to your customers, they feel encouraged to return to your store again. With personalized recommendations displayed on your store, customers would find it convenient to shop from you and when they plan to make another purchase, they would return to your store.
56% of customers are more likely to return to sites that recommend products. Salesforce found that shoppers who clicked a recommendation were nearly 2x as likely to come back to the site.
Ready to personalize your store for shoppers and increase customer retention? Avail Wiser's 14-day free trial to set up recommendations. 
8. Better email performance
When you send your email subscribers an email, you need to personalize it to each shopper. Many brands add product recommendations in their emails, ensuring these products align with the shopper's interests and behaviour on-site. By adding recommendations to emails, you can capture the attention of these shoppers and make them come back to your store.
One brand reported a 175% increase in email click-through-rate and a 30% increase in conversion rates after adding personalized product recommendations to their email newsletters. 
9. Accounts for more revenue
Multiple studies suggest that displaying personalized recommendations can increase your revenue by a whopping 26%. That's because the more you suggest valuable items to shoppers, they tend to purchase more. With personalized product recommendations you can be guaranteed to get even your least discovered products sold!
Get Started With Personalized Product Recommendations
We hope this blog helps you understand just how effective recommendations are for eCommerce businesses like yours. By displaying personalized product recommendations on your Shopify store, you can get your visitors to continue browsing your store and nudge them to make another purchase. 
Our personalized product recommendations app, Wiser, is built to allow merchants to set up AI-powered recommendations that cater to each shopper, delivering high conversions. You can now avail Wiser's 14-day free trial to test out recommendations and see just how effective they are in boosting your revenue. 
Watch our walkthrough to set up Wiser on your Shopify store and display high-converting personalized recommendations.
Want to see the impact of personalized product recommendations on your store? Check out these success stories from the likes of Kappa, 123 Presets and more!
Ready to personalize your shopper's journey?
Install Wiser to display dynamic personalized product recommendations on your Shopify store today!