Product recommendation examples from real brands online.
Long before e-commerce came into the picture, brick and mortar stores have been leveraging product recommendations efficiently to generate better sales. While the success of an online store is measured largely by its conversion rate, the average transaction value plays a key role in predicting the store's profitability.
Online stores are more profitable when they persuade their buyers to purchase more products. And how can they do that? It's not just about offering discounts. It's about making relevant and timely product recommendations too, keeping their interests at the center of it all.
Personalized recommendations have proven to hold people back to a page and also result in higher conversion rates. In fact, 75% of customers are more likely to buy based on personalized recommendations and are 4.5x more likely to add items to the cart and complete their purchase.
Customers are open to suggestions when shopping online because they know what they want to buy but do not know the best solution for their needs. By recommending a product at the right time, an online retailer can have a massive impact on the buying process of their customers.
If you want to build your own product recommendation system or improve on what you already have, check out the 10 examples of product recommendations we love. In this blog, we'll uncover at which stage of the customer journey these brands have targeted their customer recommendation and why they work.

Product recommendation examples and why they're working for the brands
1. Maille by Unilever
Maille by Unilever is a mustard brand that gives customers the opportunity to purchase premium mustards online. Maille utilizes 3 manual recommendations on their product page to bring the visitor's attention to the best products.
Recently viewed products: The brand presents a section showing the items recently viewed by the visitor to help them get back to what they were interested in while browsing the site.
Maille recommends: This section presents a mixed assortment of bestselling products and discounted items. This type of product recommendation works well for customers at the research and purchase stages, who are seeking out extra information about your products, as well as new shoppers whose preferences you don't yet know.
Bestsellers: This recommendation tactic plays on the psychology of herd mentality that most online shoppers will trust products bought and reviewed by other shoppers. Moreover, including star ratings with your bestseller recommendation will ramp up the social proof, and get customers to go for a purchase.
2. Kappa
Kappa is an Italian sportswear brand specializing in contemporary lifestyle clothing. Since they have a vast catalog of sportswear, it can be tougher for consumers/ visitors to explore across all collections. To overcome this, Kappa utilizes 3 manual recommendations on their product page to bring the visitor's attention to the best products.
Others also bought: To keep shoppers hooked to their site and generate more visitor interest, Kappa displays a section called "others also bought" which links to clothing similar to what the viewer is viewing. This helps visitors find more choices within a vast catalog of sportswear.
Shoppers often end up exploring these products thus resulting in improved discoverability of their products and at the same time gives that subtle nudge to visitors to explore more.
New Arrivals: This page highlights the newly launched products within the online store. Showing new arrivals right on top of the homepage is a great way to give exposure to seasonal items or new collections recently added to the catalog. Shoppers crave for trendy items and are always looking for something unique to shop, and having a new arrivals page will help deliver on that.
3. Star wars – Fine jewelry
Start wars fine jewelry is a jewelry store specializing in star wars inspired jewelry. The brand uses new arrivals and bestsellers right on their homepage to guide visitors to their bestselling collection and new launches and increase their chances of conversion.
Their product pages show 4 kinds of product recommendations:
Frequently bought together products: The brand uses this section to promote products that are frequently bought together. This lets potential buyers explore other items which are related to a particular purchase.
Related products: The product page displays a section on related products so that visitors can see all options available to them through recommendations similar to what they're already browsing.
Top selling products: Product pages display top-selling products to help visitors explore other products that they originally may not have been looking for, but are bestsellers and popular amidst people like them.
Products inspired by browsing history: The brand uses the browsing history to show recently viewed products. This product recommendation tactic is particularly helpful to remind the shopper of an accessory or add-on they forgot. In the case of Star Wars jewelry, this technique is used to entice the shopper into buying a product they may have checked out earlier but didn't buy.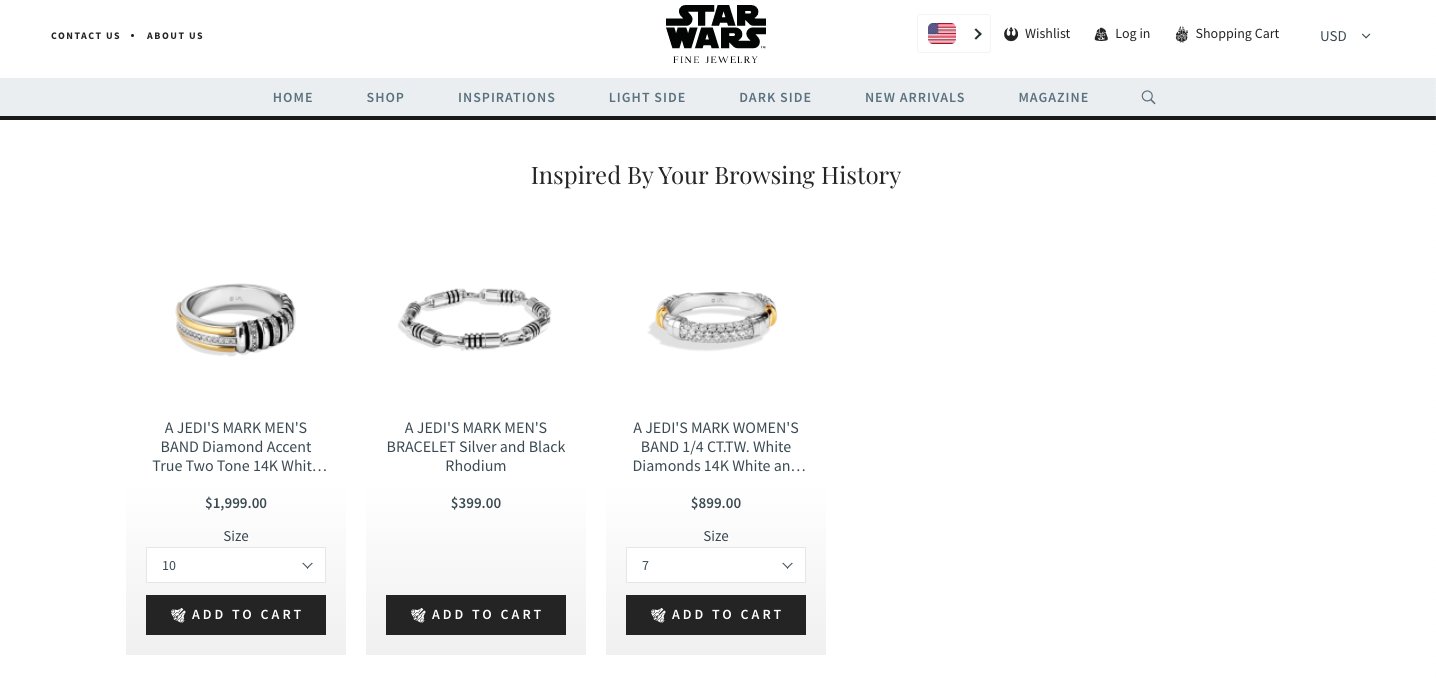 4. Enchanted – Disney jewelry
Enchanted Disney fine jewelry is a collection of jewelry inspired by the romance of Disney fairy tales. This brand uses various product recommendation tactics to navigate users within their collection.
New Arrivals: When a visitor newly lands on the website, they see a popup called "New Arrivals". This product recommendation tactic highlights the products which are recently launched. These suggestions could be for products across the store, in the category that the visitor is currently browsing, or from the customer's favorite category.
This product recommendation tactic works successfully especially for sectors driven by fast-moving trends, like beauty and fashion. Brands understand that consumers automatically expect that something new must be better than what existed before. Hence they keep their new launches in the limelight to build excitement around the shopping experience.
Featured/Bestseller Collection: Apart from new arrivals, Enchanted Disney jewelry displays its featured collection on the homepage to guide the visitor on their shopping journey. Featured/Bestseller collections are displayed to trigger human psychology that if other people buy a particular product more, it must be a good one.
Related Products: Moreover, the product pages also display "related products", which are product recommendations similar to what the visitor is currently viewing.
5. Cabana life
Cabana life is a beachwear clothing brand and is known for its sun-protective clothing line. Cabana life leverages various kinds of product recommendations strategically placed on the homepage and product pages to keep the visitor engaged with its offerings and get them to discover more options for themselves.
The brand uses 2 kinds of product recommendation tactics to get their visitors to explore their best collection:
Bestseller/New Arrivals: When a visitor lands on their homepage, they are immediately greeted by their bestseller and new arrival product recommendation which redirects the shopper to their best collection, thereby increasing their chances of conversion.
Inspired by your browsing: The product pages feature the "inspired by your browsing" recommendations by learning from the visitor's behavior on their site and guiding them in discovering products related to their preferences. That way, the shopper feels like being assisted by an in-store salesperson.
6. Fleur of England
Fleur of England is an online lingerie store that creatively leverages product recommendations to help a shopper discover its entire range of collection.
Newly in: With a "Newly in" section right at the beginning of the home page, they nudge visitors to explore their new collection and lead them on a journey to discover more choices through recommendations on product pages.
Shop the look: Additionally, the brand has put together a feature called "Shop the look", whereby visitors can shop an entire look and check out multiple products at the same time.
You may also like: The brand employs an algorithm to recommend products that shoppers may buy next based on their previous activity on the website. The "You might also like" section features such products on the product page so that they can nudge visitors to explore the other options available to them.
This particular recommendation feature leverages the fact that when shoppers develop a preference for one type of product, they will be open to explore similar products too. Anticipating this often leads to increased conversions as a result of showcasing more inventory to shoppers. Customers end up discovering items they may not have found in their initial searches.
7. Perfumania
Perfumania is a large fragrance retailer specializing in designer fragrances and gifts and accessories for men and women. The brand's visually appealing homepage indulges the visitor with a range of products, starting with its bestsellers.
Bestsellers: Showing best selling products is an effective way to indulge your visitors in the products that are trending with other shoppers. These could be your bestsellers, most browsed, or most frequently carted items at the moment.
Why does this work? Because with social proof, people tend to follow the majority behavior. It particularly benefits eCommerce where shoppers can't physically try out a product and make decisions based on other shoppers' opinions.
Related Products: Perfumania also displays "Related Products" on its product pages to help shoppers browse more options based on their interests. Moreover, if someone is a repeat visitor, they get to see a "Recently viewed" section on the homepage so that they can pick up where they last left off.
8. Senior.com
Senior.com is a retail website catering to the product needs of senior citizens. Their website uses the following product recommendations:
Shop by category: While the homepage recommends the most commonly used products for seniors, they also present a categorized assortment to redirect the visitor to a particular category of products.
Frequently bought together: The "Frequently bought together" section on product pages recommends products that shoppers tend to buy together. This product recommendation tactic suggests complementary products based on past purchases made by shoppers when they purchased the same product. Customers are reminded of items that can be used complementary to their current purchase and often helps the brand cross-sell products.
Often brands use this product recommendation either on their checkout page (to increase order value) or as part of their post-purchase email to entice shoppers into buying the products that they are likely to want and need directly following their original purchase.
9. Beddy's
Beddy's is an online retail store selling fashionable bedding. The brand uses excellent product recommendations to increase its cross-sells and raise the average order value.
Recommended products: Complementary product recommendations are created to help the visitor get all their essential bed linen in place. This gives the merchandiser full control over the products which appear together and is used to inspire shoppers to buy the items which complement the one they are browsing.
Shop by category: Displaying products categorically navigates the visitor to the section of their choice directly and discover a collection of products that appeal to them.
10. Sampoorna Ahara
Sampoorna Ahara sells a wide variety of handcrafted healthy plant based meals. The website uses 4 kinds of product recommendations on its product pages:
Frequently bought together: To entice the shopper to increase their average order value by adding more items to their cart.
Related products: To inspire the shopper to check out similar products from their collection based on what they've been browsing.
Top-selling products: To highlight the most liked and purchased products from this store.
New arrivals: To suggest the latest products available and build excitement around them.
Featured Collections: To show exclusive collections curated by the brand.
Inspired by your browsing history: Recommends visitors product options based on their past visit behavior.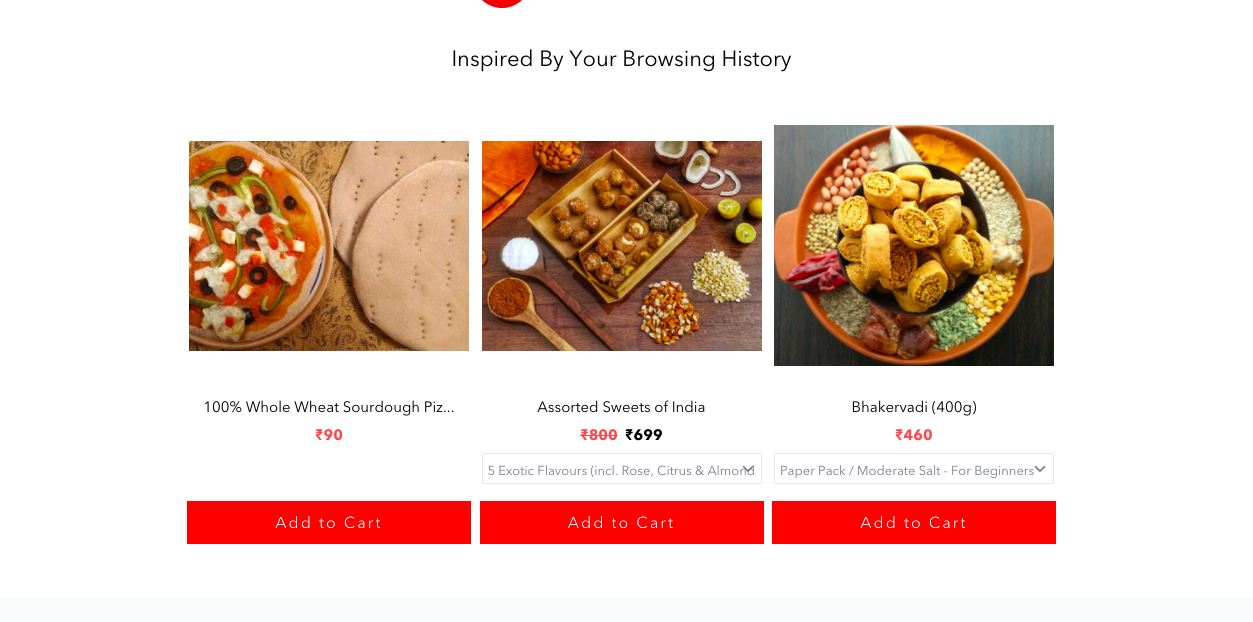 A mix of the above product recommendation tactics ensures that a visitor landing on its product page gets exposed to a variety of products, some of which they end up purchasing.
Make the most out of Shopify product recommendations
Product recommendations are more than just a widget in your Shopify store pages. They serve a much more powerful purchase when personalized according to consumer psychology. Get product recommendations right and you'll witness a tremendous rise in conversions, reduction in bounce rate, increase in average order value, and much more.
Thanks to advances in machine learning, it is now possible to show the most relevant products to customers at the moment of their engagement.
To build an effective product recommendation mechanism for your Shopify store, experiment with a mix of personalized and crowdsourced recommendations.
Take inspiration from social proof and your own experience to give customers an unforgettable shopping experience in your Shopify store.